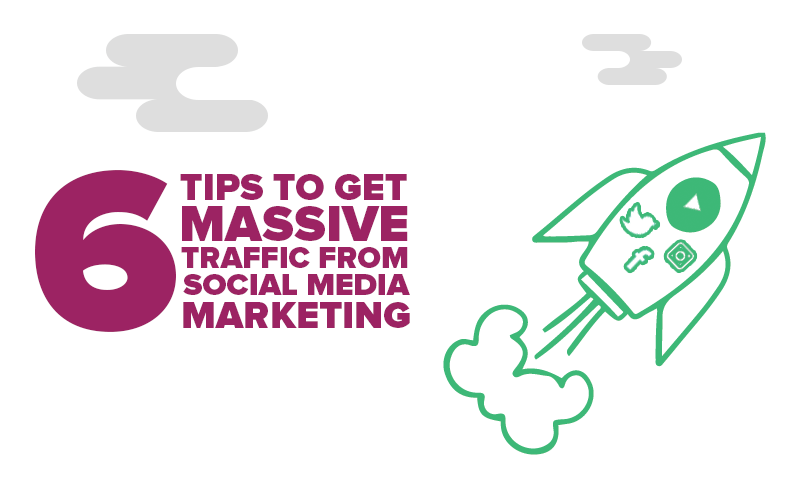 6 Tips to Get Massive Traffic from Social Media Marketing
Social media marketing or SMM is the process of gaining traffic through social media sites. The respective process allows marketers to produce or share content and expand customer reach.
Unquestionably social media is the best platform with 2.8 billion social media users, if used wisely, can bring big success to your business. The platform can also be use in creating enthusiastic brand advocates, boost the traffic on site, driving leads and sales.
Increasing traffic from social media happens when you build interactions on each network.
Remember every social media platform is different from other, but to get a high traffic boost from SMM, there are some steadfast rules to follow, so read on:
Social Media Plan
One should go with proper prior planning. Proper planning boosts the efficiency of your work and prevents failure. It is how you plan, set goals, see future of your business, select the customer's demographics and do all needed things before heading towards product's marketing.
If you're among those marketers who create one type of content and use it on all social media channels, then you're not doing a good thing. As I've mentioned above that, not all social media platforms are same, and that's why should be treated differently.
For prior planning just make a list of
•    All social media platforms -- Facebook, Instagram, Twitter, WhatsApp, etc.
•    Wants, preferences, and overall persona of your targeted customer
•    What exactly are you looking for? Selling a service, business growth, etc.
•    Which type of content you're going to share on social media
•    And most importantly, schedule the posts for the next two weeks
Don't take social media plan as for granted, following the wise or great social media plan you can boost the efficiency of your SMM.
Appealing Content
The great post is the only way through which you can gain customers or massive traffic. People coming from different backgrounds want to see, read or share something good.
Now what great content is? The content that engages people; to the point but informative; thought-provoking with the strong topic, are considered as great content.
Relevant Keywords
If you are in marketing field then you've heard the phrase, 'Keywords are the King.' Interestingly, content or post with relevant keywords generates more traffic than the content without smart or no keywords. In all social networking sites, several keywords create more traffic.
Study each platform, know their keywords and use them wisely.
Be Consistent with Your Post
Besides the things mentioned above, consistency is also crucial. You need to be consistent with your posts. Once you started posting and made readers or followers, you cannot step back.
By doing 1-5 tweets per day, posting on Instagram 10-20 times a day, two posts a day on Facebook one can maximize clicks and engagement on content.
Allow Engagement
Social media is a platform allowing people to engage with other content.
Post interesting content or visual and allow people to comment, like or share their reviews. You can also conduct a poll on your Instagram stories and engage others.
Right Time to Post
What's the right time to post? Is important to look. Just see when your post gets more engagement and when the least. Post when you think you're thinking more engagement.
Posting on the right time can increase the chance of likes, comments or shares on the posts.
According to the survey the best time of postings are:
•    Instagram: 8–9 A.M, 2 A.M and 5 P.M.
•    Facebook: 1–4 P.M, late in the week and on weekend
•    Twitter: 12–3 P.M
•    Pinterest: 8–11 P.M
Find the best time to engage people with your post or content. You can also follow above stats and observe your own.
So, these are some of the most interesting tips to get massive traffic from SMM. I hope you've enjoyed and found these tips productive enough for your business.